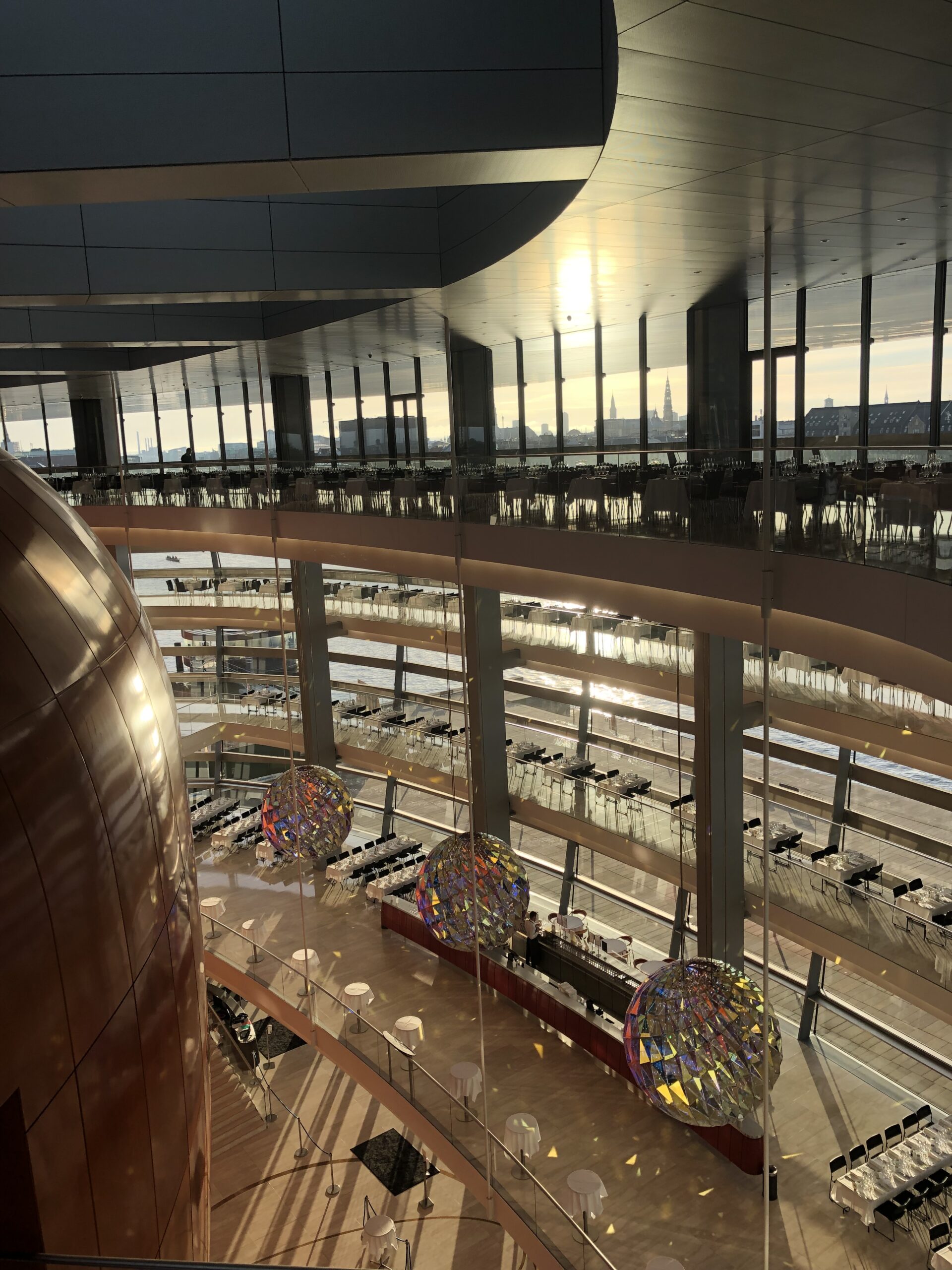 Functions, conferences & events
The Royal Danish Opera is where some of Denmark's finest cultural experiences unfold. But the Opera House can also provide the setting for functions and events. You can choose between 4 unique locations in the Opera house, accompanied by an elegant take on modern, seasonal Danish cuisine provided by Almanak i Operaen.
You can choose between 4 beautiful locations within the Opera:
The Restaurant - the 4th balcony
Capacity: 154 people
Almanak i Operaen offers spectacular panoramic views of the waterfront and historic Copenhagen. Here, your guests can enjoy an exclusive dinner with an emphasis on flavour, Danish seasonality and organics.
Opera House - Foyer
Capacity: 500 at round tables / 800 at long tables / 1500 at standing receptions
The Opera House Foyer is a unique space featuring artist Olafur Eliasson's three glowing lamps as floating focal points. With its four levels, the foyer is suitable for small as well as large events with up to 1,500 attendees.
Opera House - 1st balcony
Capacity: 28 people
An intimate space for smaller events and gatherings, offering a beautiful view, and Olafur Eliasson's three glowing lamps as the visual centrepiece.
Opera House - Takkelloftet Foyer
Capacity: 110 at round tables / 144 in a theatre style / 200 at standing reeptions
Takkelloftet at the Opera House is a so-called black-box theatre space, which makes it suitable for many kinds of events. The adjacent foyer offers great views of the old dry dock, and is an ideal venue to include as part of your event.
Every event at Almanak i Operaen is something special. We are ready to assist you with personal service and advice to help you plan a unique event.
Please contact us by the e-mail below, and together we will find the best solution for you.